Health & Safety
We take health and safety very seriously – it is our top priority. Not only the health and safety of our own staff, but that of our clients' teams, subcontractors and the public too. We employ a Health & Safety Manager who is in regular consultation with our management teams – visiting our sites to advise and assist on all health & safety issues. We have a zero-tolerance approach to unsafe ways of working which aims to protect anyone who may come in contact with our work.

All our staff are fully introduced to our health and safety policy at the outset of their employment and kept fully informed of changes through regular updates and frequent consultation. Directors review the health and safety policy regularly to ensure its effectiveness at all times - Management of Health & Safety goes all the way through our business and includes subcontractors and the entire supply chain.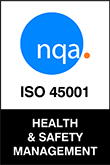 Our key message is collaboration - health and safety is part of everyone's job and our priority is to make sure that everyone feels responsible for ensuring that each of us return safely to our families at the end of each working day - There is nothing so important that we can't take the time to do it safely.